associative_key_sequence Class Template Reference
[Collections Library]
#include <stlsoft/collections/associative_key_sequence.hpp>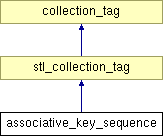 ---
Detailed Description
template<typename A>
class stlsoft::associative_key_sequence< A >
Adapts an associative container to provide a sequence over the element keys.
---
Member Typedef Documentation
The current parameterisation of the type.
The associative container type.
The reference type.
Note:

This is identical to the const_reference, since we will not be using this adaptor sequence to alter the contents of the underlying sequence
The non-mutable (const) reference type.
The non-mutating (const) iterator type.
---
Member Function Documentation
The number of elements in the container.
The maximum number of elements that can be stored in the container.
Indicates whether the container is empty.
Begins the iteration.
Returns:

A non-mutable (const) iterator representing the start of the sequence
Ends the iteration.
Returns:

A non-mutable (const) iterator representing the end of the sequence
---
The documentation for this class was generated from the following file: